San Diego , CA – (17 April, 2007)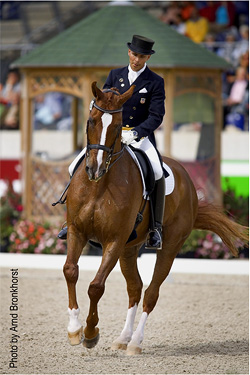 Championships in Grand Prix Dressage and Show Jumping will be settled over the weekend at the Thomas and Mack Center, and Professional's Choice product endorsers Steffan Peters and Catherine Haddad, both Americans, plan to be in the Dressage title mix.
Another Professional's Choice endorser, Danish Olympic Team Coach Rudolf Zeilinger, will watch as his trainee, and crowd favorite, Andreas Helgstrand competes for a World Cup title. Though Helgstrand is not an official Professional's Choice endorser, keep your eyes peeled for PC product on the exquisite white mare.
The dressage warm-up, set for April 18 at 1:30 p.m. Las Vegas time, will be a good opportunity to see Professional's Choice products in action. In fact, look for Peters, Haddad and Helgstrand as they guide their mounts, which will be featuring PC's popular English products including the new Leather Protection Boots and warmblood-sized Ballistic Bell Boots.
Most likely, you'll not only see those accessories during the warm-up, but during the awards ceremony as Peters, Haddad and Helgstrand are among the World Cup favorites.
The dressage World Cup Finals championship round is scheduled for April 21 at 7 p.m.
Haddad, 43, and Peters, 42, comprise half of the American Dressage contingent. Haddad will be aboard Maximus JSS and Peters will ride Floriano.
Peters was the highest scoring rider for the bronze-medal winning U.S. team at the 2006 World Equestrian Games in Aachen, Germany. When speaking of his prized horse, Peters said, "If Floriano is a little keyed up he can lose his balance. I have to sit really extremely light, not really think about touching him."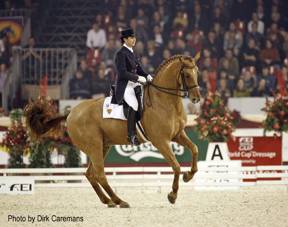 Born in Germany, Peters became a U.S. citizen in 1992 and lives and trains in San Diego with his wife Shannon, who is also an accomplished dressage competitor and PC endorser.
Haddad lives and trains in Vechta, Germany, and, like Helgstrand, she trains with Zeilinger. After training and competing with the U.S. Team last summer, Haddad was named a reserve rider for the World Equestrian Games. She also is an active breeder of Oldenburg and Hannoverian horses; in February 2005, she received the prestigious Silver Pin Award for breeding achievement from the Oldenburger Zuchtverband in Germany.
Zeilinger, one of the most talented pupils of the late Willi Schultheis, is a trainer of Olympic and world champion horses including Michelle Gibson's famous Atlanta Games mount Peron. Michelle was the first American in history to brush an individual Olympic Bronze Medal. Zeilinger is well-known for the gentle and sensitive way he trains dressage horses, encouraging them to develop a relaxed, confident and athletic way of moving, combined with a happy forward-thinking attitude to their work.
Zeilinger's protégé, Helgstrand, the pride of Denmark, will ride Blue Hors Matine at the World Cup.
"We are so excited and proud to have such quality riders and depth with our endorsers so early on in the game with our new English products," said Dal Scott, president and CEO of Professional's Choice.
Look for more Professional's Choice products (www.profchoice.com) as they continue to be unveiled in the dressage, combined training and hunter/jumper markets later this year.
Professional's Choice – Leading the industry for the first 30 years was just the beginning.
Professional's Choice, a manufacturer of equine and orthopedic products, is renowned in the equine industry for its innovative products. As inventor and manufacturer of the original patented Sports Medicine Boot, the SMB Elite™ and the SMx Air Ride™ Saddle Pad and authorized licensee for Wrangler Apparel Corp., manufacturing Wrangler® and Twenty X™ equine products, gear bags and luggage, Professional's Choice has earned the respect of top trainers, professionals and everyday horseman alike. For more information, or, for the location of your nearest authorized dealer, please contact Professional's Choice Sports Medicine Products, Inc., at 800-331-9421, or visit them on the web at www.profchoice.com.