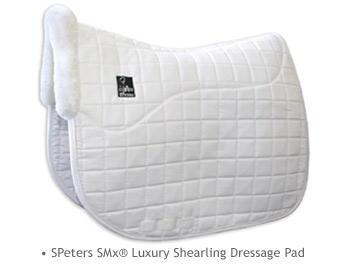 San Diego, CA (April 1, 2008) Professional's Choice, power-house manufacturer of innovative equine products and three-time Olympian Steffen Peters, have joined forces to develop a brand new line of dressage saddle pads. After a year of intensive design, testing, and perfecting, comes the highly anticipated arrival of Professional's Choice SPeters Dressage Pads.
These are the first dressage pads made with luxury features coupled with state of the art technology synonymous with the Professional's Choice brand. Together with his wife, and accomplished dressage competitor Shannon Peters, Steffen integrated all the best features from years of international competition and training into three unique saddle pad styles.
The SPeters Shearling Dressage Pad and the SPeters Luxury Dressage Pad feature garment quality shearling strategically placed under the saddle pressure points providing superior comfort to the horse's back while wicking away moisture. To maximize the performance and comfort of your horse, this new line features newly evolved SMx® technology for the English marketplace. The cut has a generous rise for the withers, an open spine and is slightly oversized for shrinkage. The plush quilting has bold box quilting with a crisp appearance, finished piping and is a stand out among other pads.
Steffen Peters' internationally acclaimed equestrian background, top Olympic and World titles makes him the perfect all around authority for quality and innovation in dressage saddle pad design.
Dal Scott, Professional's Choice founder and CEO, credits his company's diligent scientific research for the success of its western products. "With new technology advances in manufacturing, we can now bring this same expertise to our English products. Our research and development efforts have led us to the production of an exclusive line of saddle pads, ideal for every level dressage enthusiast."
STAY TUNED for more exciting English products to be unveiled later this year!
The more comfortable the horse, the better the performance.
Professional's Choice, a manufacturer of equine and orthopedic products, is renowned in the equine industry for its innovative products. As inventor and manufacturer of the original patented Sports Medicine Boot, the SMB Elite™ and the SMx Air Ride™ Saddle Pad and authorized licensee for Wrangler Apparel Corp., manufacturing Wrangler® and Twenty X™ equine products, gear bags and luggage, Professional's Choice has earned the respect of top trainers, professionals and everyday horseman alike. For more information, or, for the location of your nearest authorized dealer, please contact Professional's Choice Sports Medicine Products, Inc., at 800-331-9421, or visit them on the web at www.profchoice.com.