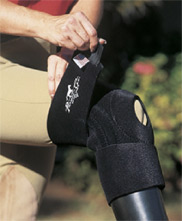 San Diego, CA (May 26, 2008) Professional's Choice gives new hope to chronic pain sufferers with a time tested product. The manufacturer of some of the most effective orthopedic supports on the market has recently revitalized their efforts to educate consumers about proper joint support and the benefits available from the use of the Miracle Knee® Support.
Suffering with chronic knee pain is an everyday reality for millions of Americans. It is physically, as well as mentally draining to endure the prolonged pain and discomfort associated with knee injuries. The Miracle Knee® Support gives relief from that pain and offers a path towards wellbeing.
The knee joint is extremely vulnerable to wear and tear, but surgery is not always practical or viable. Exercise and strengthening of the surrounding muscles is often recommended, but without additional support can be painful and lengthy. Use of the Miracle Knee® not only relieves pain, but shortens recovery time from injuries and surgeries, allowing individuals to resume their activities sooner. It is also a smart preventative measure for those prone to injuries, especially athletes and workers.
The Miracle Knee® Support is ideal for use during athletic activities as it allows complete mobility at all levels and reduces the effects of arthritis, damaged cartilage, sprains, or strains. Flexible medial and lateral stays provide side-to-side support and ligament stability. Made of special neoprene that won't dry out or crack over time, it provides moist heat therapy to increase blood circulation and relax tight or sore muscles.
Worn over or under clothing, the Miracle Knee® Support enables individuals to comfortably return to work or play. It features a unique wrap design making it easy to put on and providing a perfect fit at the thigh and calf. The open back design also eliminates the irritating pinching, binding and rubbing common to slip-on knee supports.
The Miracle Knee® Support has been recommended and used successfully by, athletic, Pilates and personal trainers nationwide.
The Miracle Knee® Support is available from orthopedic distributors or directly from Professional's Choice. No prescription is needed for this product and it comes in regular and extra-large sizes at a very moderate price – it also comes with a 30-day money back guarantee.
To view the entire line of Professional's Choice orthopedic products including the Comfort-Fit® Low Back Support, or to locate an authorized dealer near you, call 800-331-9421 or view our orthopedic section.
The more comfortable the horse, the better the performance
Professional's Choice, a manufacturer of equine and orthopedic products, is renowned in the equine industry for its innovative products. As inventor and manufacturer of the original patented Sports Medicine Boot, the SMB Elite™ and the SMx Air Ride™ Saddle Pad and authorized licensee for Wrangler Apparel Corp., manufacturing Wrangler® and Twenty X™ equine products, gear bags and luggage, Professional's Choice has earned the respect of top trainers, professionals and everyday horseman alike. For more information, or, for the location of your nearest authorized dealer, please contact Professional's Choice Sports Medicine Products, Inc., at 800-331-9421, or visit them on the web at www.profchoice.com.