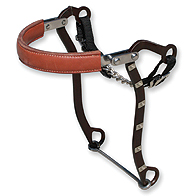 Professional's Choice announces the expansion of the Bob Avila Signature Series line due to ever widening attention and demand.
Designed and tested by Bob Avila, "World's Greatest Horseman" and holder of nearly 40 world titles and the only horseman to win the Magnificent 7 three times in a row, and produced by Professional's Choice, the Bob Avila Collection has expanded to include over 35 styles of bits and spurs. Avila, a sought after professional trainer, developed the series over many years of working and training horses. His extensive hands-on experience and skills have enabled him to develop bits for multiple purposes including specialty bits for individual needs and bits that can help address a specific problem.
When first introduced, the Bob Avila Collection became instantly popular, not only due to the types of bits offered, but because the bits are extremely affordable allowing the horseman to train the horse through several bits if necessary. Because of the wide variety of horses and disciplines at various levels of their training, it was decided to add to this hugely successful bit line.
Newly added are two short shank medium port bits, two new snaffle bits, three hackamores and a new medium copper port bit with Bob's signature shank.
"I am always looking for something new that will work on a specific horse and I really wanted to be sure we had something for everyone'' says Avila. "Using the correct bit can move a horse along in its training at a faster rate with more sustainable results because you have a calmer more focused horse. The correct bit lets the horse work with you instead of against you."
Bob Avila is involved in research, design and development for other Professional's Choice signature products including their line of protective boots. "The quality is simply the best. They thoroughly test their products on both everyday and performance horses, so you know they are effective. Professional's Choice products have always been there for me and never let me down."
The more comfortable the horse, the better the performance.
Professional's Choice is a pioneer in producing products strictly with the well being of the horse in mind. As inventor and manufacturer of the original patented Sports Medicine Boot, the SMB Elite™ and the SMx Air Ride™ Saddle Pad, Professional's Choice continually produces high quality products recognized by top trainers, professionals and everyday horseman all over the world. To locate an authorized Professional's Choice dealer near you, call 800-331-9421 or use the Professional's Choice Online Dealer Locator tool.
Professional's Choice, a manufacturer of equine and orthopedic products, is renowned in the equine industry for its innovative products. As inventor and manufacturer of the original patented Sports Medicine Boot, the SMB Elite™ and the SMx Air Ride™ Saddle Pad and authorized licensee for Wrangler Apparel Corp., manufacturing Wrangler® and Twenty X™ equine products, gear bags and luggage, Professional's Choice has earned the respect of top trainers, professionals and everyday horseman alike. For more information, or, for the location of your nearest authorized dealer, please contact Professional's Choice Sports Medicine Products, Inc., at 800-331-9421, or visit them on the web at www.profchoice.com.