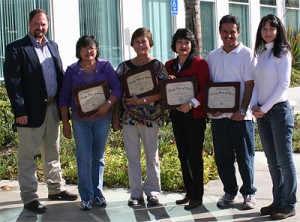 Professional's Choice held a special luncheon to ring in the new year and recognize four employees for 20 years of exceptional service to the company and the equine sports medicine industry.
Twenty-year Service Awards were presented to Julieta Zamudio (Production Specialist), Veronica Catalan (Senior Saddle Pad Production Specialist), Cynthia Jacobo (Production Manager), and Oscar Velazquez (Shipping Specialist).
Monty Crist, Professional's Choice General Manager stated, "Their dedication and service to this company is greatly appreciated. We're a big family here and these individuals have been part of our team for a very long time. Commitment and loyalty are scarce qualities, but these four have proven that close-knit companies with core values still exist today."
Recipients hold their Employee Service Recognition Awards From left: Monty Crist (General Manager), Julieta Zamudio, Veronica Catalan, Cynthia Jacobo, Oscar Velazquez, Leah Horstman (Director of Warehousing & Manufacturing) Twenty years ago, Professional's Choice invented the SMB, the "Original Sports Medicine Boot," and in 1999, all four employees participated in the creation and introduction of the SMx Air-Ride™ Saddle Pad. In 2002, they witnessed Professional's Choice, a company they'd put their hearts and souls into, become the authorized licensee for Wrangler® Apparel Corp. Three years later, in 2005, they participated in the launch of the new SMB Elite™, a revolutionary boot resulting from the culmination of year's worth of hard work and collaboration. These employees chose Professional's Choice as their second family and Professional's Choice admires their loyalty and support throughout the past two decades.
True to form, at this years holiday celebration, Dal & Nina Scott, Professional's Choice founders presented all employees with a generous cash bonus. The gracious gesture showed true comradery and appreciation for another year of great products, hard work, and industry standard setting.
The more comfortable the horse, the better the performance.
Professional's Choice is a pioneer in producing products strictly with the well being of the horse in mind. As inventor and manufacturer of the original patented Sports Medicine Boot, the SMB Elite™ and the SMx Air Ride™ Saddle Pad, Professional's Choice continually produces high quality products recognized by top trainers, professionals and everyday horseman all over the world.
To locate an authorized Professional's Choice dealer near you, call 800-331-9421 or use the Professional's Choice Online Dealer Locator tool.
Professional's Choice, a manufacturer of equine and orthopedic products, is renowned in the equine industry for its innovative products. As inventor and manufacturer of the original patented Sports Medicine Boot, the SMB Elite™ and the SMx Air Ride™ Saddle Pad and authorized licensee for Wrangler Apparel Corp., manufacturing Wrangler® and Twenty X™ equine products, gear bags and luggage, Professional's Choice has earned the respect of top trainers, professionals and everyday horseman alike. For more information, or, for the location of your nearest authorized dealer, please contact Professional's Choice Sports Medicine Products, Inc., at 800-331-9421, or visit them on the web at www.profchoice.com.