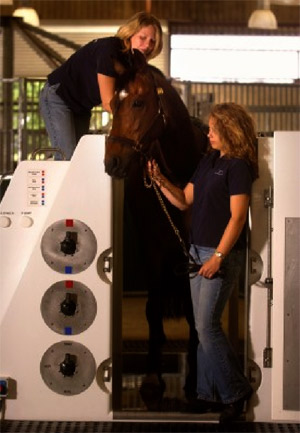 Professional's Choice announces new sponsor partnership with Premier Equine Center (PEC) of Northern California. The sponsorship will exclusively provide PEC with therapeutic products that will be used during the performance enhancement and treatment process.
Located in Jamestown, PEC provides state of the art equine healing and rehabilitation services. They are the only public facility on the west coast that offers a Cold Salt Hydrotherapy Spa. Studies have shown that Cold Salt Hydrotherapy is a vital treatment that reduces inflammation and accelerates the natural healing process. Additionally, Cold Salt Hydrotherapy can be used to treat many forms of lower leg inflammation and injuries.
The Premier Equine facility is also home to the only equine solarium in California. The Premier Equine solarium does not require the horse to be restrained, but free and comfortable in a stall. Premier Equine also provides many other treatments including; a covered free flow equiciser, the widely tested and trusted P3 Machine, a pulsed magnetic device, equine massage therapy, equine chiropractic, and equine dentistry. They work closely with each horse's veterinarian, follow their recommendations, and have an onsite attending veterinarian overseeing treatments.
In addition to equine sports medicine products, Professional's Choice provides therapeutic products that are second to none. As part of their partnership, Professional's Choice will provide polo and no-bow wraps, ice boots, protective leg care products, and magnetic therapy items. This will allow Premier Equine to not only offer the best rehabilitation, healing, and condition programs, but also offer top of the line equine sports medicine products for continued health and prevention.
Premier Equine is owned and operated by Amie Allen and Patrick Grohl. Allen is a competitive horse rider, certified massage therapist, and certified to operate all the equipment used at the Premier Equine facility. Grohl grew up on a ranch, was a competitive team roper, and high school/college team roping champion. Both owners are extremely knowledgeable and experienced equine professionals. Several noteworthy veterinary hospitals and professionals recommend their clients to PEC.
"Premier Equine Center provides an unparalleled equine rehabilitation facility tucked away in the picturesque foothills in Northern California. Their staff is exceptional in providing the utmost care for their patients. We have full confidence in the technology and refer our clients to Premier Equine for all their rehabilitation needs." – Luke Bass, DVM, MS
"Premier Equine Center is a modern equine lay-up, rehabilitation and conditioning facility that offers state of the art therapy equipment and treatment. We find the staff led by owner Pat Grohl to provide excellent hands-on care and they are very professional and dedicated to the horse's health and safety during recovery or lay-up." – Jerry B. Black, DVM
The more comfortable the horse, the better the performance.
Professional's Choice is a pioneer in producing products strictly with the well being of the horse in mind. As inventor and manufacturer of the original patented Sports Medicine Boot, the SMB Elite™ and the SMx Air Ride™ Saddle Pad, Professional's Choice continually produces high quality products recognized by top trainers, professionals and everyday horseman all over the world.
To locate an authorized Professional's Choice dealer near you, call 800-331-9421 or use the Professional's Choice Online Dealer Locator tool.
Professional's Choice, a manufacturer of equine and orthopedic products, is renowned in the equine industry for its innovative products. As inventor and manufacturer of the original patented Sports Medicine Boot, the SMB Elite™ and the SMx Air Ride™ Saddle Pad and authorized licensee for Wrangler Apparel Corp., manufacturing Wrangler® and Twenty X™ equine products, gear bags and luggage, Professional's Choice has earned the respect of top trainers, professionals and everyday horseman alike. For more information, or, for the location of your nearest authorized dealer, please contact Professional's Choice Sports Medicine Products, Inc., at 800-331-9421, or visit them on the web at www.profchoice.com.