The Charmayne James Saddle Pad Sweepstakes entrants were challenged to find 4 new color combinations for Professional's Choice's new "Illusion" Barrel Pad series. The new saddle pads were designed in a special new size, with the specific needs of barrel racers in mind. Due to the overwhelming response, 6 pad color combinations were chosen beyond the original 4.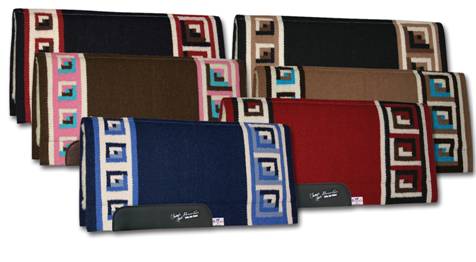 "Professional's Choice has always looked to it's customers for input and innovations that continue to help reshape the equestrian industry. This contest was no different. Feedback from our customers reflected that a new Navajo barrel racing pad in this unique size was needed, it was only natural to look to this group to finalize the colors, as in the end, they're the ones we're creating it for. The result was a great new pad not seen on the market until now, with stylish new colors." – Monty Crist, General Manager of Professional's Choice.
The contest received thousands of entries from all across the United States and Canada. Winners were chosen at random and consisted of four grand prize winners that were outfitted head to heels and nose to tail in Professional's Choice products. Winners will also be treated to a 4-day Charmayne James Clinic. 25 additional winners were selected to receive their choice of a Charmayne James Saddle Pad and a Charmayne James Instructional video.
The SMx Air Ride™ Barrel Saddle Pad: "Illusion" Series conforms to both the horse and saddle and produces a "lock-down" effect for a more secure and comfortable ride. The close contact of the SMx Air Ride™ helps on tight turns. It is contoured to fit, extremely lightweight and built with our patented breathable and shock-absorbent SMx Air Ride™ core. Works well with either round or square-skirted saddles. The new pad is offered in the unique size of 29"x31".
To view a complete list of the contest winners visit http://www.profchoice.com/cj_winners.php.
The more comfortable the horse, the better the performance.
Professional's Choice is a pioneer in producing products strictly with the well being of the horse in mind. As inventor and manufacturer of the original patented Sports Medicine Boot, the SMB Elite™ and the SMx Air Ride™ Saddle Pad, Professional's Choice continually produces high quality products recognized by top trainers, professionals and everyday horseman all over the world.
To locate an authorized Professional's Choice dealer near you, call 800-331-9421 or use the Professional's Choice Online Dealer Locator tool.
Professional's Choice, a manufacturer of equine and orthopedic products, is renowned in the equine industry for its innovative products. As inventor and manufacturer of the original patented Sports Medicine Boot, the SMB Elite™ and the SMx Air Ride™ Saddle Pad and authorized licensee for Wrangler Apparel Corp., manufacturing Wrangler® and Twenty X™ equine products, gear bags and luggage, Professional's Choice has earned the respect of top trainers, professionals and everyday horseman alike. For more information, or, for the location of your nearest authorized dealer, please contact Professional's Choice Sports Medicine Products, Inc., at 800-331-9421, or visit them on the web at www.profchoice.com.