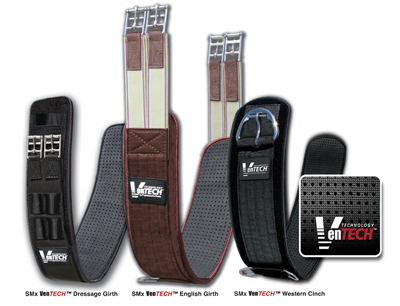 San Diego, CA – Professional's Choice Sports Medicine Products Inc.,inventor of the authentic equine sports medicine boot,announces the October launch of their new SMx VenTECH™ English Girth. This is the latest in a new line of girths, cinches, and accessories featuring the exclusive VenTECH™ technology.
VenTECH™ technology features a ventilated non-slip neoprene that conforms to your horse, and allows heat and moisture to escape while keeping him cool, comfortable, and performing at its best. VenTECH™ girths set the new standard for equine comfort and technology with all the premium features you expect from Professional's Choice products. The SMx VenTECH™ English Girth comes with the Professional's Choice six month warranty and will be available in black and chocolate.
VenTECH™ girths combine premium limestone-based neoprene and state-of-the-art ventilated technology that allows heat to escape. Neoprene liner won't harbor bacteria and peels away from webbing for easy cleaning. Non-slip waffle pattern prevents saddle and pad slippage without over tightening.
When asked how this product differs from other products on the market, Dal Scott, Professional's Choice President/Founder stated, "This product will truly allow you to take your horse's comfort and performance to the next level. Over the years, some of our customers have expressed an interest in a neoprene product that addresses the issue of heat retention. The ventilated technology of our new VenTECH™ line now ensures there is a Professional's Choice product that accommodates the needs of every horseman.
"The more comfortable the horse, the better the performance."
Professional's Choice is a pioneer in producing products strictly with the well being of the horse in mind. As inventor and manufacturer of the original patented Sports Medicine Boot, the SMx Air Ride™ Saddle Pad, and now VenTECH™ technology, Professional's Choice continually produces high quality products recognized by top trainers, professionals and everyday horseman all over the world.
To locate an authorized Professional's Choice dealer near you, call 800-331-9421 or visit the website at www.profchoice.com.