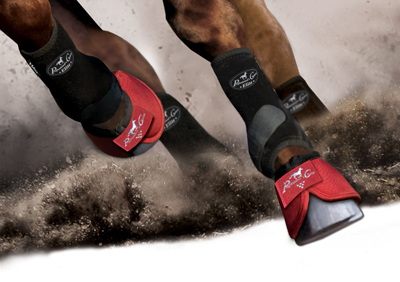 San Diego, CA – Professional's Choice Sports Medicine Products Inc. announces January 2010 launch of their reengineered core Sports Medicine Product line. The products will feature state of the art VenTECH™ technology. This advanced new technology incorporates ventilated neoprene, in addition to making these products breathable, it also enhances the products overall performance.
"I didn't think our Sports Medicine Boots could be improved until we re engineered them with VenTECH™ technology.The perforation provides added stretch, making them more flexible, breathable and more supportive. They actually perform better now, and really keep dirt out." – Monty Crist, General Manager
The Elite™ Sports Medicine Boot, known around the word to be the ultimate in equine leg care protection, is now equipped with VenTECH™ technology. The boot provides 360° of protection, safeguarding the cannon bone, tendons, and soft tissue. It provides support and balance for the entire suspensory system for the horse. The perforation of both layers provides added stretch, flexibility, and enhances fit. Unlike other boots on the market, these boots are easy to apply and keep dirt out.
When asked how these products differ from other products on the market, Dal Scott, Professional's Choice President/Founder stated, "These products truly allow you to take your horse's comfort and performance to the next level. Over the years, some of our customers have expressed interest in a neoprene product that addresses the issue of heat retention. The ventilated technology of our new VenTECH™ line now ensures there is a Professional's Choice product to accommodate the needs of every horseman."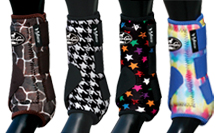 New for 2010, the SMB Elite™ is not only equipped with VenTECH™ technology, it's also fashionable. In addition to the standard eleven solid colors, the VenTECH™ Elite also comes in giraffe, houndstooth, signature stars, and tie-dye. Visit www.profchoice.com to mix and match all your favorite color combinations.
"The more comfortable the horse, the better the performance."
Professional's Choice is a pioneer in producing products strictly with the well being of the horse in mind. As inventor and manufacturer of the original patented Sports Medicine Boot, the SMx Air Ride™ Saddle Pad, and now VenTECH™ technology, Professional's Choice continually produces high quality products recognized by top trainers, professionals and everyday horseman all over the world.
To locate an authorized Professional's Choice dealer near you, call 800-331-9421
or visit the website at www.profchoice.com.