San Diego, CA - Professional's Choice Sports Medicine Inc. continues to fuel its commitment to scientific research with the latest addition of Dr. Joleen Elston. Dr. Elston is working with our team to help with research and development, testing of products and also helping to explain how and why Professional's Choice products work with your horse. She will be available for consults via email at Elston@profchoice.com.
Dr. Elston has been invited to speak at the International Equestrian Festival this fall in conjunction with the 2010 World Equestrian Games. The focus of her seminar will be "Equine Leg Care and Injury Prevention." Riders of all disciplines and skill levels are encouraged to attend these seminars to learn more about protecting their equine athletes. Lectures are scheduled for September 30th and October 3rd at 2:00pm in the Seminar Room. After the lectures please join us in the Ecotrack Park for a leg care demonstration. Dr. Elston will also be available at the Professional's Choice Booth #819 to answer any additional questions.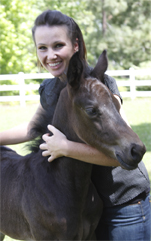 Dr. Elston has had a lifelong passion for horses that continues today. She started riding before the age of five and acquired her first pony when she was eight. She hosts an impressive riding resume that includes accomplishments in the United States Pony Club, achieving her Silver and Bronze medals in the United States Dressage Federation and competing as an alternate on the Region 7 Young Riders Team. Dr. Elston has set her focus on dedicating her life to the equine performance world.
In her teens Dr. Elston became a technician at a small animal hospital and moved on to a five year technician at the renowned San Luis Rey Equine Hospital. She completed her bachelor degree at Washington State in Biology and Zoology. She received her doctorate from Washington State University Veterinary School. Following her doctorate she accepted an internship position at the highly acclaimed Pioneer Equine Hospital in Oakdale, California. In 2007, Dr. Elston joined the practice of Large Animal Veterinary Associates in San Diego, California where she continues to practice. Dr. Elston has specific interest in lameness issues and performance horse medicine. She is a wonderful attribute to her community and we know she will be a wonderful attribute to Professional's Choice!
"The more comfortable the horse, the better the performance."
Professional's Choice is a pioneer in producing products strictly with the well being of the horse in mind. As inventor and manufacturer of the original patented Sports Medicine Boot, the SMx Air Ride™ Saddle Pad, and now VenTECH™ technology, Professional's Choice continually produces high quality products recognized by top trainers, professionals and everyday horseman all over the world.
To locate an authorized Professional's Choice dealer near you, call 800-331-9421 or visit the website at www.profchoice.com.