Frequently Asked Questions
Listed below are some of the most common questions asked by our customers. If you cannot find the answer to your question here, or if you require further clarification, please do not hesitate to contact us at 1-800-331-9421 or 1-619-873-1100.
:: What is the difference between the Ballistic Overreach Boots, the Secure-Fit™ Overreach Boots and Quick-Wrap Bell Boots?
Ballistic Overreach Boots have a "no-turn" design and protect the back of the hoof from overreaching with some side protection. They have a double hook & loop closure in the front (which has been lengthened to improve durability) and the outer shell and binding are made of Dupont Ballistic™ nylon. Similar in style and function are the Secure-Fit™ Overreach Boots. The Secure-Fit™ Overreach boots feature an easy to clean vinyl finish with Dupont Ballistic™ binding, the soft no-turn knob keeps the boots from spinning. These boots are available in a variety of patterns to match the VenTECH™ Elite Boots. Quick-Wrap bell boots are made with the same neoprene and Ultrashock™ lining as Sports Medicine Boots and are available in colors to match. They give 360-degree protection to the hoof and coronet band, and have Ballistic™ binding on the bottom edge.
:: How do you clean saddle pads and boots?
We recommend the following for all Professional's Choice Products: Hand wash and/or hose off the products with a pressure nozzle. If necessary, use a mild liquid soap to remove excess dirt and sweat. Woolite® or horse shampoo work well. Rinse the products well with cold water and allow them to air-dry. When drying saddle pads, place them on a rail or fence with the bottom side up. This helps protect the outside fabric from fading. DO NOT WASH SADDLE PADS OR BOOTS IN A WASHING MACHINE. Machine washing can cause damage and voids the warranty. Do not soak boots or machine wash them.
:: What size Sports Medicine Boots will fit my horse, and are the front and rears different?
Size is determined primarily by the circumference of the fetlock joint. To ensure a proper fit, measure the circumference of the fetlock at the widest point and use the appropriate sizing chart.
VenTECH™ Elite Sports Medicine Boots were designed specifically for either the front or rear legs. Generally, your horse will wear the same size on both front and rear legs, as the size difference was taken into consideration in the design, but measure to be sure. VenTECH™ Elites come in three sizes for both front and rear legs and are also packaged in a convenient Value 4-Pack.
The SMB-3™ is available in three sizes with relatively the same cut and feel as the SMBII® but we have added a Lycra binding at the edge to help keep the dirt out and cut it up a little higher in the front to work with a bell boot. SMB-3™'s are also packaged in a convenient Value 4-Pack.
SMBII®s come in five sizes and are designed to fit either front or hind legs. SMBII® boots get larger in circumference with each size in direct relation to height. Many horses will wear a larger size on the hind legs, but if you have quite a bit of overlap on a medium boot on the front leg, your horse may take the same size on his hind legs.
For all boots please refer to the individual size chart
:: How long can my horse wear Sports Medicine Boots?
Maximum wear time is four hours for all boots except boots with VenTECH™ technology. Those boots can be worn longer due to the breathable, ventilated neoprene and lining.
:: How are cinches and girths measured?
Both are measured from end of buckle to end of buckle. size chart
:: How can I determine what size saddle pad I need?
Measure a pad you are currently using if you like the fit, or measure your saddle front to back and across, and add approximately four inches. For example, if your saddle is 28 inches in length, you will need at least a 32×34 saddle pad. The size of your horse and the form of his back will also determine the size of pad you need.
:: Is the extra padding on the OrthoSport™ models a better choice for all horses?
We designed the OrthoSport pads with extra padding just behind the shoulders and along either side of the spine. This gives a better fit on horses that are a little hollow behind the shoulders or high-withered. The design also works well on most roping horses due to the extra shock absorption. You would not need this type of pad on a very round horse with little or no withers. It is an especially good pad for older horses.
:: Does Professional's Choice ship Internationally to Retail Customers?
We are sorry, but Professional's Choice does not ship outside the United States direct to Retail Customers and we can only accept credit cards that have a billing address within the U.S. for internet orders. We do have Dealers and/or Distributors in most countries and they can be found via our website utilizing the International Dealer Locator.
:: What is the proper way to use a Professional's Choice Ice Boot?
For Professional's Choice Ice Boots with neoprene exterior insulates the frozen gel pockets keeping the boots colder longer, thus increasing the therapy time. Easy to activate, place in freezer until frozen, can be then transferred to ice chest or cooler for use away from the barn or a freezer.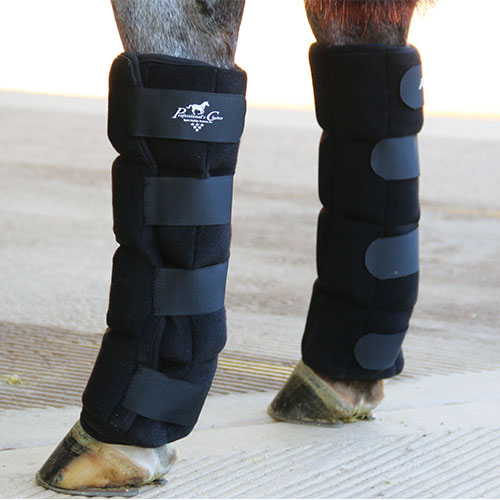 For the Six or Nine Pocket Ice Boots are designed to be used with real crushed ice, like the kind you get at a grocery store or convenience store. These boots are not compatible with gel ice cells. Instead, you put the ice in the inside pockets, you can do one pocket or all of them, and then the ice would slowly penetrate the boot, allowing the horse's skin to become acclimated to the temperature. Icing the legs helps reduce inflammation, muscle spasms and pain. When the ice has melted, take off the boots, pour out the water and let the boots air dry.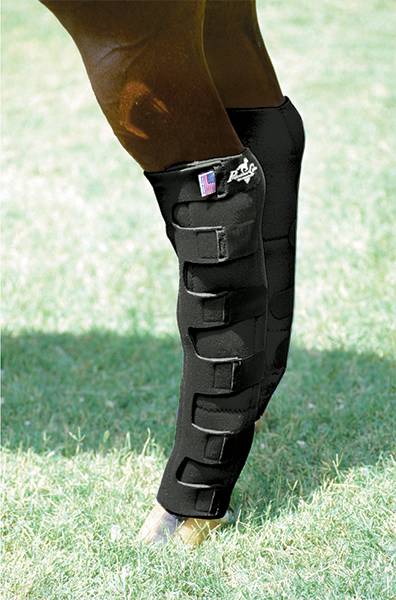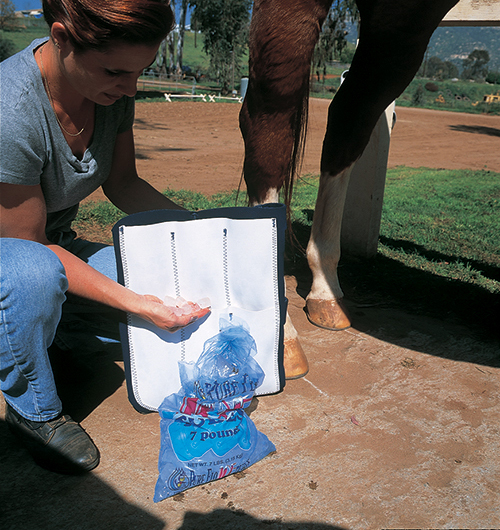 We also sell gel Ice Cells that are designed to be inserted inside a Sports Medicine Boot after a workout.