Professional Choice -
Brushing/All Purpose Boots

Browse Brushing/All Purpose Boots
Products

Description:
The Professional's Choice Leather Protection Boot provides a unique combination of protection, quality and comfort. The outer shell is made from thick, yet soft, genuine leather that conforms to...
More Details »

Description:
Designed to provide exceptional protection from interference during training, the Leather Protection Boot now comes in a convenient 4-Pack. This is a money-saving option for conscientious...
More Details »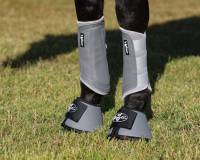 Description:
This All-Purpose boot features a breathable VenTECH™ lining that promotes air flow to the horses leg and a water resistant exterior. Recessed stitching and an extra-strong PVC padded strike patch...
More Details »