Professional's Choice Technology
Innovative Technology
Professional's Choice is the only producer of equine merchandise that continually invests a tremendous amount of research into its current products. If you see tht Professional's Choice name on a product, you can be assured that it contains the finest materials, has been tested over and over, and will work for you. We are constantly in search of new designs and technologies to apply to our products. Yes, we love our current products, but in our continued pursuit of excellence, "innovation" is a key component of the Professional's Choice philosophy.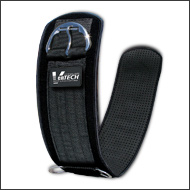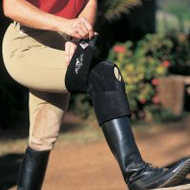 Neoprene
Neoprene is essentially a foamed rubber that can be polymerized using two manufacturing techniques. Traditionally, companies used petroleum based butadiene as a polymerizing agent, but Professional's Choice uses limestone based acetylene. Why? You can easily imagine the environmental impact of using products derived from petroleum, but actually, limestone based Neoprene has other superior advantages. For example, limestone Neoprene is more densely packed (23% high cell structure than oil derived neoprene). This translates to a super stretchy product with superior elongation properties (the ability to stretch in multiple directions) and a longer lifespan. In addition, there is no water absorption in our Neoprene products. As a result, they will not get heavier when wet which could potentially hinder your horse's movement. Also, our neoprene will not dry out, crack or crumble like the petroleum derived neoprenes do.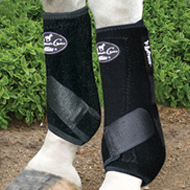 VenTECH™
The new VenTECH™ technology is lightweight, breathable, contoured, and engineered with circulating grooves to create a cooling air flow and to allow heat and moisture to escape. This keeps your horse cool, comfortable, and performing at its best. You can find VenTECH technology in our Elite® boots, cinches, girths, Ballistic Protection Boots?, Leather Open Front Boot, Splint Boot, Standing Wraps, and Slide-Tec Skid Boots.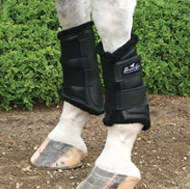 Ultrashock™
This lining is excellent for absorbing energy. It conforms to your horse and provides superior protection. The Ultrashock™ technology can be found in all of our protective boots and many other Professional's Choice products.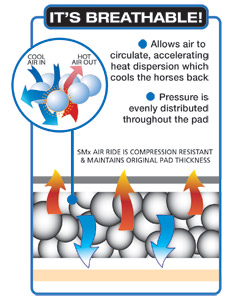 SMx
All Professional's Choice SMx saddle pads are specially designed with a breathable patented material that allows air to circulate, accelerating heat dispersion which cools the horses back, a feature that prevents your horse from overheating, keeping them comfortable. When tested at Oklahoma University, SMx Air Ride™ saddle pads were found to be shock absorbent, and dispersed weight and pressure away from the horse's body while protecting the riders back. SMx Air Ride™ technology is light weight and flexible.