The beginning...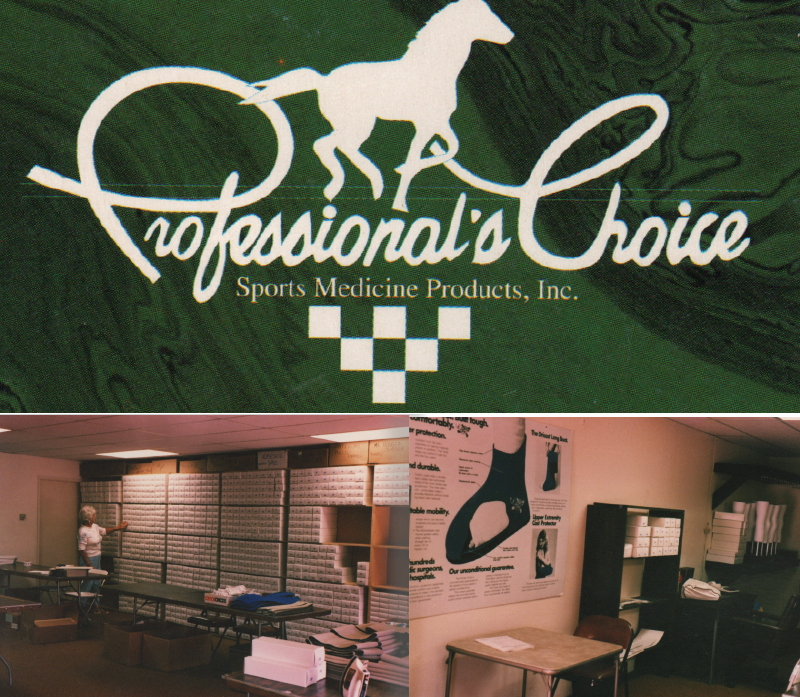 The beginning for PC...
In 1976 Professional's Choice founder and president, Dal Scott, broke his leg in a horseback riding accident. To assist in a more comfortable and speedy recovery, he developed a neoprene orthopedic product. This was the start of Dricast Orthopedics, Inc.

Because of Scott's passion for horses, it didn't take long to redirect the company focus to the equine industry. In 1986 he began manufacturing therapeutic equine products, and Scott renamed the company Professional's Choice Sports Medicine Products, Inc. The Professional's Choice research and development team then went to work on what is now known around the world as the Original Sports Medicine Boot. Scientific and clinical studies created the best protective and shock absorbing leg care boots available; the Professional's Choice Sports Medicine Boot made its debut in 1990.
In January of 2002, Professional's Choice became the exclusive equine product licensee for Wrangler Apparel Corp. Professional's Choice currently manufactures a full line of popular Wrangler® and Twenty X™ equine products including saddle pads, horse blankets, fly protection as well as protective boots and wraps.
In 2004 Professional's Choice introduced a major breakthrough in saddle pad technology with benefits for both horse and rider. The new generation SMx Air-Ride™ Saddle Pad utilizes a new, patented material that allows air to circulate, resulting in heat dispersion and moisture evaporation. This saddle pad is lightweight, distributes weight evenly and is compression resistant, making it an incredibly long lasting pad.
2005 marked the introduction of the SMB Elite™. The Elite™ Sports Medicine Boot is lightweight and contoured to ensure a perfect, glove-like fit and to keep dirt out. Exclusive materials and multi-layered construction provide 360 degrees of protection and absorbs and dissipates over 26% of negative energy from hoof concussion, while the uniquely designed suspensory strap helps to prevent hyperextension of the fetlock. This boot is the ultimate in equine leg protection.
In 2009 Scott made the decision to move a substantial portion of his off-shore manufacturing business back to the southern California facility. This move allowed Scott to save upwards of twenty American jobs and caught the attention of international news center CNN. On July 28, the CNN news team paid a visit to Professional's Choice to shoot a segment on "re-shoring." The segment aired that evening in primetime on Lou Dobbs Tonight.
2010 marked the complete reengineering of several Professional's Choice core products and the release of VenTECH™ technology. This advanced new technology incorporates ventilated neoprene, which in addition to making these products breathable, also enhances the products overall performance. "I didn't think our Sports Medicine products could be improved until we reengineered them with VenTECH™ technology. The perforation provides added stretch, making them more flexible, breathable and more supportive. They actually perform better than ever before." – Monty Crist, General Manager
Launching January 2011, Professional's Choice will be the exclusive equine product licensee for John Deere. The initial product line will include saddle pads, horse blankets, protective boots, horse attire, and horseman's accessories.
Professional's Choice continues to be a market leader renowned for revolutionizing the equine industry through diligent scientific research and producing the highest quality products strictly for the horse's safety and well-being. This leadership position has earned Professional's Choice the respect of top trainers, professionals and everyday horsemen all over the world.