Professional Choice -
Curb Straps

Browse Curb Straps
Products

Description:
Made from Hermann Oak's best harness leather, 5/8" wide with solid brass center bar buckles. Design detail provides added sensitivity to bit response. An Al Dunning favorite!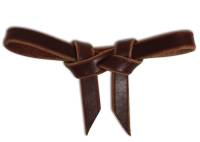 Description:
Effective, elegant snaffle curb made from durable Burgundy latigo leather, 5/8" wide. From the Al Dunning Collection.

Description:
Premium harness leather curb lined with burgundy latigo, fastened with latigo knots. A favorite style of leading trainer, Al Dunning.