Professional Choice -
Dressage Pads

Browse Dressage Pads
Products

Description:
The luxurious box quilting has a distinctive, bold pattern with a crisp, clean appearance. A generous rise for the withers and slightly oversized for shrinkage. Soft 100% cotton top and bottom....
More Details »

Description:
Garment quality shearling is placed under the saddle pressure points and over the withers with a micro-cellular pommel piece for comfort and slippage prevention. The under panels are padded with...
More Details »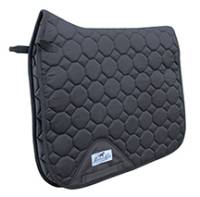 Description:
The Professional's Choice VenTECH® Dressage pad combines the latest technical materials while maintaining a traditional appearance. The quilted cotton top layer is stain resistant while the...
More Details »